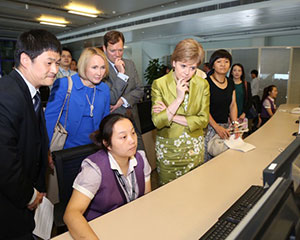 Scottish First Minister Sees IndigoVision's Technology In Action
Nicola Sturgeon sees IndigoVision helping protect Shanghai airport.
As part of a Chinese trade mission promoting Scottish business, The First Minister for Scotland, Nicola Sturgeon, met with the Shanghai Airport authority to see a demonstration of IndigoVision's video security technology at Shanghai Hongqiao airport. Meeting IndigoVision's Chief Financial Officer, Holly McComb, The First Minister was impressed to see Scottish technology in use in such a prestigious location, finding out the benefits it brings the airport and on IndigoVision's growth plans for the airport sector in China.
Shanghai Hongqiao airport handles 38 million passengers each year with the Shanghai Airport Group rated the top performing airport operator in China. IndigoVision's video security system, in operation since 2009, manages 1,880 cameras in terminal 2 at Hongqiao, one of the 7 Chinese airports currently using IndigoVision's technology.
China has big plans for airport expansion, with the goal to have 260 civil airports completed by 2020.
IndigoVision's video security technology is used to protect over 100 airports worldwide, ranging from the largest airport in South America to regional airports.