Executive Team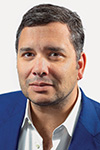 Pedro Simoes
Chief Executive Officer
Pedro Simoes was initially appointed as the Company's Senior Vice President – Global Sales on 2 October 2017. Pedro took over as interim Chief Executive Officer in November 2017 and was confirmed as CEO on 8 January 2018, at which time he was appointed to the Board. He is an experienced global sales leader in the security industry, with over 13 years' experience in the sector, and prior to joining the Group he spent nearly six years with Avigilon Corporation (TSX: AVO) where he was ultimately responsible for leading its Global salesforce and driving revenue worldwide.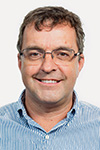 Chris Lea
Chief Financial Officer and Company Secretary
Chris Lea was appointed a Director on 19 May 2016, as Company Secretary on 31 May 2016 and took up his full time role as Chief Financial Officer on 4 July 2016. Chris was previously Finance Director and Company Secretary of then AIM-listed Superglass Holdings PLC (AIM:SPGH), the UK's only independent manufacturer of glass and mineral wool insulation, prior to the sale of the company to Inflection Management Corporation in July 2016. Previous to this Chris was Chief Financial Officer for Aviagen Europe, the world's largest poultry breeding company. Chris spent 15 years with KPMG, holding various roles within their audit and corporate finance businesses. He holds a BSc (Hons) from Nottingham University and is a member of the Institute of Chartered Accountants in England and Wales.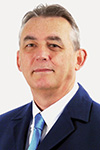 Paul Theasby
Chief Operating Officer
Paul Theasby joined IndigoVision as Chief Operating Officer in January 2014. Paul has more than 30 years of experience in both corporate and SME electronic technology companies. Prior management roles include General Manager with Bosch Security Systems in Taiwan and England, and with NCR Corporation, Scotland. A Chartered Engineer and member of the Institution of Engineering and Technology, he also holds an MBA from Edinburgh Napier University.

David Blair
Head of HR
David Blair joined IndigoVision in 2014 as Head of HR. David has previously held a range of HR roles at Oracle Corporation and Sun Microsystems. He has enjoyed 2 international assignments while working for Oracle, spending 2 years in the Netherlands and South Africa. David has a Postgraduate Diploma in HRM from Napier University and a BSc in Psychology from Edinburgh University.
Regional Team

Dean Brazenall
VP of Sales EMEA
With over 20 years' experience in security technology and solution sales Dean Brazenall brings proven skills in building sales teams, market demand and sales revenues. Prior to joining IndigoVision Dean spent 4 years with Avigilon, creating the platform for the high growth phase in EMEA. Other senior roles held by Dean were at Samsung, Bosch and GE Security.

Lim Then Poh
VP of Sales APAC
Lim Then Poh was appointed to lead the APAC region in 2015. Then Poh joined IndigoVision in 2005 as sales account manager. He brings strong technical and industry knowledge, together with proven project management skills essential for the enterprise large scale end users for which IndigoVision is renowned. Then Poh is also fluent in the four main languages of the region. He is energetic, creative and experienced at taking enterprise level Hardware and Software solutions into multiple market verticals, including finance, retail, government, transport, education, health and casino.