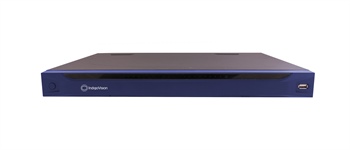 IndigoVision's updated Alarm Panel is here!
Video Surveillance, Access Control, Perimeter Detection, Alarm Systems, Help Points: all these applications are designed to keep you safe. But they are all stand-alone, meaning they can't talk to each other, different systems speaking different languages.
Introducing IndigoVision's updated BX120 Alarm Panel, the simplest way to connect third party systems to your system. How simple you ask? Absolutely no Integrations needed, plug and play and away you go!
Physically connect up 16 binary inputs and 4 relay outputs with a single 19″ rack mount BX120 Alarm Panel. Positive and/or negative edge triggered inputs can generate events within Control Center to record video, display video from specific cameras, move cameras to preset PTZ positions and activate binary outputs. Outputs can be activated remotely over the IP network.
Together is better with IndigoVision.
Find out more about this great product by downloading the datasheet now or click here to contact us.