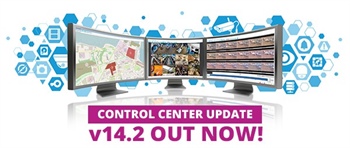 IndigoVision Launches Control Center v14.2
We are delighted to launch version 14.2 of our Security Management Solution, Control Center.
Control Center v14.2 has exciting new features which improve user experience by simplifying setup and day to day operation of sites. New features include:
PTZ Priority for ONVIF Cameras – PTZ Priority and PTZ Hold are now available for ONVIF cameras. These features, previously only available for IndigoVision SMART.core cameras, manage simultaneous access to a PTZ camera by different users.
Bulk Configuration of ONVIF Cameras – Previously only available for IndigoVision's SMART.core cameras, now any camera can be easily set up with IndigoVision's simple bulk-configuration process, saving time and money.
Restricted Playback Duration – Administrators can choose to limit the oldest recordings a user can review. Previously a user could either review all recordings for a camera or none at all. The new limit is more flexible, allowing users to playback recent recordings but not older ones.
Camera Reporting Functionality – Easily find your camera on a map or work out which NVR it is recording to. Users can now export information from Control Center to build their own custom reports.
These new features, combined with our commitment to open standards, integration, and our unique Distributed Network Architecture, make Control Center the industry leading security solution. Control Center is also available in three cost-value tiered propositions; IndigoLite®, IndigoPro®, and IndigoUltra®.
Find out more about Control Center here or contact us now.