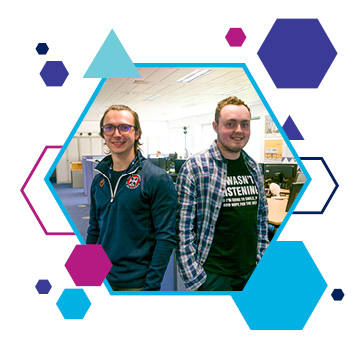 IndigoVision is once again set to develop future-ready and employable students
The recruitment market is becoming increasingly competitive and finding talent with the right skills at the right time is vital to the success of our business.
At IndigoVision we believe in developing our own talent pipeline, giving university students the opportunity to gain valuable work experience. We are pleased to announce our 2018 internship programme which is taking place in our Software Development department.
Last week we extended a warm welcome to this year's interns, Alex Shand and Robert Mitchell, two students from the University of Edinburgh. Alex is in his final undergraduate year studying a BEng Hons in Artificial Intelligence and Software Engineering while Robert is about to start his final undergraduate masters year studying a MInf in Informatics (computer science).
Alex and Robert will be working on various projects throughout their 12 week internship. To keep you updated about the progress of the internship, they will be blogging every month about their experiences.
We wish them well and look forward to hearing about how their first month at IndigoVision has been.