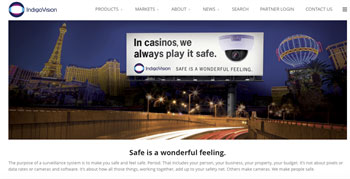 IndigoVision Launches New Website
Our first major change to the website in 5 years is here!
After 9 months of hard work, we are excited to launch the new IndigoVision rebranded website!
The old website had been in place for a long time, as had our old strapline "Complete IP Video Security Solutions" so we decided that it was time for a change. First off was the IndigoVision brand. Who is IndigoVision? After a consultation with our internal staff, our resellers and our end users the response was that IndigoVision was about "protection", "security" and "safety." We made people feel safe.
How did we make people safe? Because our solution is end-to-end, everything is tested, "it all just works!" But not only that, our staff went to the ends of the earth to make sure that everything was right for our customers – sales, technical support, operations. We really cared about making it work, which made people feel safe.
We then took that and applied it to our website – what problems do security directors face? How do we solve them? How do we make them feel safe?
Hopefully you'll see those questions answered in the new website.
Safe is a wonderful feeling, isn't it?