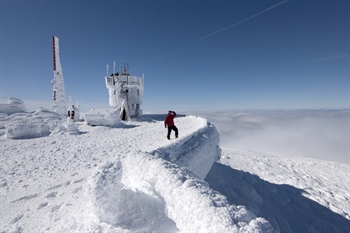 IndigoVision's Ultra 2K Camera Survives "Home of the World's Worst Weather"
Mount Washington is famous for dangerously erratic weather, with the summit weather observation registered temperatures of -43.6 °F (-42.0 °C) and winds of 87.5 mph on an average 110 days a year. The mountain holds the Northern and Western Hemisphere record for surface wind speed, with a speed of 231 mph. Mount Washington's extraordinary weather extremes, unlike anywhere on Earth, is an ideal product testing site, with NASA and the Massachusetts Institute of Technology (MIT) using it's facilities.
IndigoVision's Ultra 2K camera has been in place for over 12 months, installed by IndigoVision integrator Scarsdale Security, easily surviving the conditions Mount Washington has thrown at it. With it's use of initiative, environmental casing and a built in heater, it can survive the most extreme weather from -40°F/C to +122°F/50°C.
With the IndigoVision Ultra 2K you get full HD video and imagine clarity in all lighting conditions. Built in SMART core technology gives highly optimised H.264 compression and ACF+ and reduces storage costs by up to 95%. Combined with our Video Management Software, Control Center, and you have a fully integrated user interface for managing video, access control and alarms, all at your fingertips.
You can also try out Control Center with our free trial!

If not-so extreme weather is causing problems with your current cameras, contact us now for a demo of our Ultra 2K.  
Want to see it for yourself? Go here to see the Ultra 2K streaming LIVE from the summit of Mount Washington.