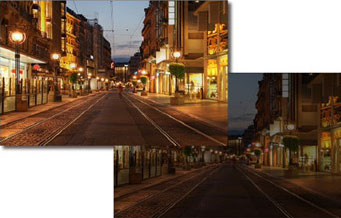 IndigoVision's HD Interceptor gets an upgrade – the all NEW Starvis
With around 63% of downtown crime occurring between 8pm – 4am, it doesn't exactly fill you with that 'safe wonderful feeling' walking around at night does it?
Never fear! The Interceptor Starvis, the latest release of IndigoVision's HD Interceptor, will make you feel safe again and this is a release you won't want to miss!
The new Interceptor Starvis has had a sensor upgrade, now using the latest innovative Sony CMOS sensor technology this camera is hard to fault. Now equipped with back-illuminated pixel technology the NEW HD Interceptor Starvis provides stunning video quality in all lighting conditions. You can see from the below example just how good the technology is!
When you combine the functionality of this new sensor with the existing illumination options it takes the Interceptor to a whole new level of seeing in the dark. The integrated white and infrared lighting allows you to see even more detail with illumination up to 175m.
To find out more about this fantastic security product, click here to contact us now.