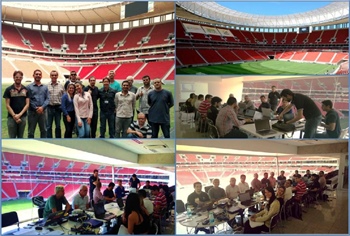 Sixth Gold Medal for IndigoVision
Training on the IndigoVision system was provided to the security representatives of the Special Secretariat for Major Events of the Ministry of Justice together with representatives from the Public Security Bureau for Peace of the Federal District, the Estadio Nacional in Brasilia, the Mané Garrincha Sports Department, Tourism & Leisure of the Federal District ahead of the Olympic Games.
The IndigoVision system was used to monitor, record and report from all control rooms throughout the event.  With no central server requirement, the IndigoVision system saved cost and was chosen for its high quality images and architectural resilience, along with its ability to quickly search recorded data and pinpoint incidents.
IndigoVision previously supplied video security solutions to Olympic Games in Athens, Turin, Beijing, Vancouver and London.
Multiple locations, thousands of cameras, no central server, highly scalable, cost effective and the ability to convert systems post games for legacy solutions.
With IndigoVision, Safe is a Wonderful Feeling.