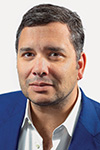 Pedro Simoes
Chief Executive Officer
Pedro Simoes was initially appointed as the Company's Senior Vice President – Global Sales on 2 October 2017. Pedro took over as interim Chief Executive Officer in November 2017 and was confirmed as CEO on 8 January 2018, at which time he was appointed to the Board. He is an experienced global sales leader in the security industry, with over 13 years' experience in the sector, and prior to joining the Group he spent nearly six years with Avigilon Corporation (TSX: AVO) where he was ultimately responsible for leading its Global salesforce and driving revenue worldwide.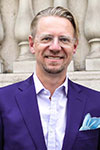 Max Thowless-Reeves
Non-Executive Chairman
Max Thowless-Reeves was appointed to the board of IndigoVision with effect from 1 June 2017 and was appointed Chairman on 7 March 2019. Max is a partner in Private Investment Office SORBUS Partners LLP. He is a Chartered Fellow of the Chartered Institute for Securities & Investment (CISI) and a Visiting Teaching Fellow at Aston Business School. He has an MBA from Warwick Business School.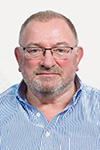 George Elliott
Non-Executive Director
George Elliott was appointed to the board of IndigoVision as a non-executive director on 1 June 2017 and was appointed Non-Executive Chairman on 1 July 2017, stepping down to a non-executive director role once again on 7 March 2019. George is also Non-Executive Chairman of Calnex Solutions Ltd, Optoscribe Ltd, Design Led Products Ltd and is a Director of RITF Consultants Limited. He has extensive boardroom experience in private and public technology companies in an executive and non-executive capacity. George was until recently Non-Executive Chairman of AIM-listed Craneware plc (AIM: CRW), the market leader in software and supporting services for healthcare providers in the US.  From 2000 to 2007 he was Chief Financial Officer of Wolfson Microelectronics plc, then a leading UK-listed global provider of high performance mixed-signal semiconductors to the consumer electronics industry.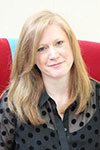 Vikki Macleod
Non-executive Director
Vikki Macleod was appointed to the board of IndigoVision as an independent non-executive director on 29 March 2019. With a near 30 year career rooted in software, data and digital transformation for retail, marketing and financial services sectors, Vikki has held strategic and executive level roles with Virgin, Tesco Bank, and Equiniti. She was also a Trustee and Risk & Audit Committee member for Tesco PLC's pension schemes, helping manage and apply the assets of its £8bn trust fund and a non-executive director for Zonal Retail Data Systems, the UK's No1 Hospitality Business Solutions Provider. She is also an Independent Growth and Technology Advisor, helping ambitious mid-market business leaders as part of Grant Thornton's Growth 365 service.
Committees
Audit Committee
The Board has delegated the following responsibilities to the Audit Committee:
To assist the Board in meeting its financial reporting responsibilities
To ensure that the Group's published financial statements comply with all applicable statutory requirements and accounting standard
To review the interim and annual financial reports of the Group
To review the effectiveness of internal financial controls and make recommendations where necessary
To communicate with the external auditors and review their audit findings
To review the performance of the auditors
To advise the Board on the appointment and remuneration of the external auditors
Vikki Macleod is Chair of the Audit Committee and both George Elliot and Max Thowless-Reeves are members. Chris Lea is the Secretary of the Audit Committee.
Remuneration Committee
The Board has delegated the following responsibilities to the Remuneration Committee:

Reviewing the performance of the Executive Directors
Setting the pay, bonuses and other remuneration of the Executive Directors
Allocating share options together with any attached performance targets to Executive Directors and employees
George Elliot is the Chair of the Remuneration Committee. Chris Lea is the Secretary of the Remuneration Committee.