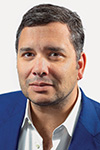 Pedro Simoes
Chief Executive Officer
Pedro Simoes was initially appointed as the Company's Senior Vice President – Global Sales on 2 October 2017. Pedro took over as interim Chief Executive Officer in November 2017 and was confirmed as CEO on 8 January 2018, at which time he was appointed to the Board. He is an experienced global sales leader in the security industry, with over 13 years' experience in the sector, and prior to joining the Group he spent nearly six years with Avigilon Corporation (TSX: AVO) where he was ultimately responsible for leading its Global salesforce and driving revenue worldwide.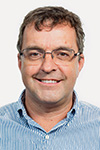 Chris Lea
Chief Financial Officer and Company Secretary
Chris Lea was appointed a Director on 19 May 2016, as Company Secretary on 31 May 2016 and took up his full time role as Chief Financial Officer on 4 July 2016. Chris was previously Finance Director and Company Secretary of then AIM-listed Superglass Holdings PLC (AIM:SPGH), the UK's only independent manufacturer of glass and mineral wool insulation, prior to the sale of the company to Inflection Management Corporation in July 2016. Previous to this Chris was Chief Financial Officer for Aviagen Europe, the world's largest poultry breeding company. Chris spent 15 years with KPMG, holding various roles within their audit and corporate finance businesses. He holds a BSc (Hons) from Nottingham University and is a member of the Institute of Chartered Accountants in England and Wales.
Committees
Audit Committee
The Board has delegated the following responsibilities to the Audit Committee:
To assist the Board in meeting its financial reporting responsibilities
To ensure that the Group's published financial statements comply with all applicable statutory requirements and accounting standard
To review the interim and annual financial reports of the Group
To review the effectiveness of internal financial controls and make recommendations where necessary
To communicate with the external auditors and review their audit findings
To review the performance of the auditors
To advise the Board on the appointment and remuneration of the external auditors
Vikki Macleod is Chair of the Audit Committee and both George Elliot and Max Thowless-Reeves are members. Chris Lea is the Secretary of the Audit Committee.
Remuneration Committee
The Board has delegated the following responsibilities to the Remuneration Committee:

Reviewing the performance of the Executive Directors
Setting the pay, bonuses and other remuneration of the Executive Directors
Allocating share options together with any attached performance targets to Executive Directors and employees
George Elliot is the Chair of the Remuneration Committee. Chris Lea is the Secretary of the Remuneration Committee.