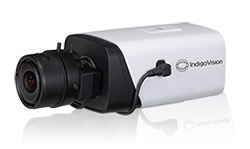 IndigoVision releases new 4MP variant of BX Fixed Camera
Keeping you safe, without the high-end price tag is a top priority for IndigoVision's BX camera range, to ensure peace of mind. Not only do you get supreme connectivity, flexibility, great resolution video and audio but you also get maximum reliability combined with all the benefits of IndigoVision's Distributed Network Architecture (DNA).
With the latest release of the new BX 4MP Fixed Camera you get all of this and more!
Greater visibility during twilight hours is now possible with the 4MP Fixed Camera thanks to improved WDR and new low light sensors. The new 4MP model also boasts improvements of analytics, increased frame rate and the flexibility provided with CS mount lenses in both the Standard and Telephoto options.  Installation and maintenance is simplified with Auto Back Focus which provides fine adjustment of focus from the cameras web page.
The BX camera range provides powerful monitoring and surveillance which won't let you down, and that's the IndigoVision promise. Invest in the IndigoVision BX range and you'll you get more than you bargained for, not only is safe a wonderful feeling, value-for-money isn't so bad either.
Find out more about these great products by downloading the Product Catalogue now or click here to contact us.