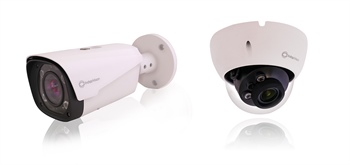 IndigoVision releases improved GX Bullet and Minidome Cameras
The GX camera range gives you more camera than you bargained for. What's more they are a safe choice, and one designed to keep you safe. With the GX camera range you enjoy all the benefits of great quality HD video and IndigoVision's Distributed Network Architecture (DNA), giving you an end-to-end system with no single point of failure.
With the latest improvements to the GX Bullet and Minidome cameras you will also benefit from:
Smaller, sleeker physical product making both form factors more discreet and easier to install with integrated motorised lenses for remote zoom and focus adjustment
Outstanding low light and improved dynamic range performance providing clear and detailed footage regardless of the time of day
A full selection of durable camera mounts, aiding installations and allowing you to install cameras in even the most difficult of locations.
With smart Analytics like Motion Detection and a highly affordable price tag the GX camera range provides a flexible and reliable product offering.
Find out more about these great products by downloading the Bullet Camera or Minidome Camera datasheets now or click here to contact us.