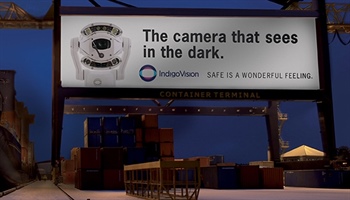 Introducing the latest IndigoVision Interceptor cameras
In the darkest of nights, the IndigoVision HD Interceptor PTZ makes easy work of catching criminals.
Covert, infrared lighting enables the Interceptor to track suspects 570ft/175m away.
While overt white lighting enables it to track suspects 490ft/150m away, and allows you to capture close-ups in full color in full HD video.
The Interceptor is now available with an easy to install hinge mount option and now comes in four models.
Interceptor Base
Interceptor Standard – includes integrated wiper and low temp operation
Interceptor IR150W – as Standard with additional 490ft/150m white light and IR illumination
Interceptor IR175 – as Standard with additional long range 570ft/175m IR illumination
Download the IndigoVision Product Catalog to get technical details.
Go here to find out more about the IndigoVision Interceptor cameras.