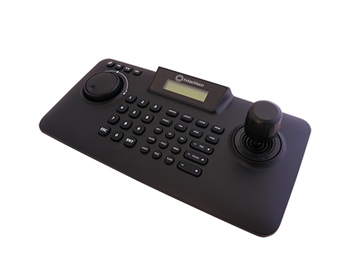 IndigoVision Launches NEW Surveillance Keyboard
Who needs a mouse when you have a Surveillance Keyboard?
IndigoVision's Surveillance Keyboard, puts people's safety in your hands and makes it easier and more efficient than ever before.
Using the new and improved Surveillance Keyboard you can easily access IndigoVision's Control Center Virtual Matrix at the touch of a button, allowing control of both IndigoVision and third party cameras including Pelco and Panasonic. Accessing the IP Video Wall is just as easy.
The 3-axis joystick (pan/tilt/zoom) and jog/shuffle dial allow you to seamlessly control live and recorded video. Multi-function keys and an LCD display provide feedback to the operator for smooth operation.
Available in a sleek and stylish black design IndigoVision's Surveillance Keyboard works seamlessly with all Control Center software tiers to provide a complete end-to-end solution.
To find out more, download the Surveillance Keyboard datasheet, or contact us now.