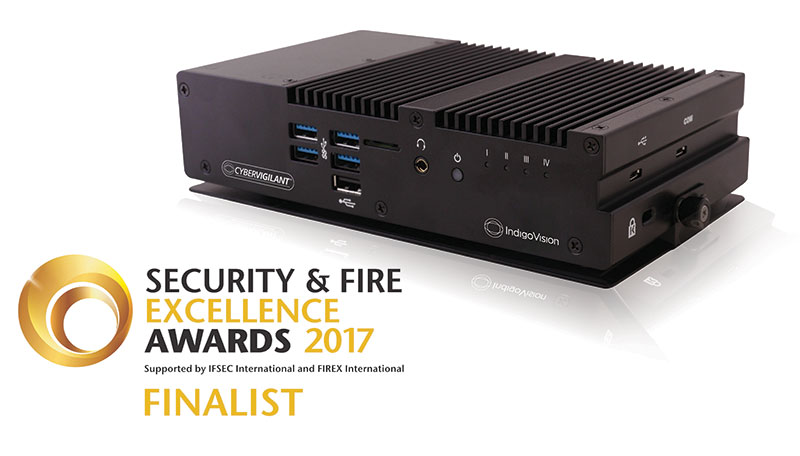 IndigoVision shortlisted as a finalist for Security & Fire Excellence Awards 2017!
IndigoVision are incredibly excited to announce that CyberVigilant® has been shortlisted for Cyber Security Innovation of the Year at the Security & Fire Excellence Awards 2017!
IndigoVision's CyberVigilant® is a unique and innovative cyber-security technology that offers a quick response to potential cyber-threats.
CyberVigilant® helps to keep your system safe from anomalies by applying IndigoVision's expert knowledge to your existing setup, combining over 23 years of IndigoVision's expertise in IP CCTV; specific knowledge of your site including cameras, NVRs and workstations; and the integration knowledge of the Control Center alarm management.
Anomalies include, but are not limited to unauthorized configuration access attempts, network reconnaissance / scans, device access from unauthorized clients, shell access, use of unauthorized DNS, NTP and SMTP servers and Denial Of Service (DoS) attacks. Anomaly events and alarms are sent directly into your Control Center user interface enabling users to respond immediately to a cyber-attack.
Now in their eighteenth year, Security & Fire Excellence Awards has consistently broken new ground in highlighting the very best people, projects and processes that the security and fire sectors have to offer.
Winners will be announced at the Awards Ceremony which  will take place on Wednesday 22 November 2017 at London Hilton on Park Lane.
For a full list of the categories and other finalists for these awards visit http://www.securityandfireawards.com/finalists/ or if you would like more information about CyberVigilant® contact us now.